Alternative Routes / Careers for Doctors
11 January 2016
I am working with a number of doctors at the moment who are considering alternative careers or managing careers that don't follow a traditional path.
Although the education and training pathway for medicine is narrow and long, people don't necessarily want their whole career to be prescribed or predictable.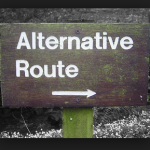 And what I often find is that people who are considering doing things differently are very anxious about how this may be viewed or valued. The investment both financially and personally in becoming a doctor is significant, so to potentially challenge this position is hard. And of course there is a whole section of the workforce who are now considering leaving medicine altogether due to the unrelenting pressures and personal challenges they are being made to face. In this blog I'll address alternative careers (actually stepping away from medicine) and different career paths (doing things differently, but within medicine).
Alternative Careers
So what could you do? There are lists on the internet that give options and ideas for doctors; what their medical degree and experience might lead to. I'm not sure these are that helpful though. If you are lucky enough to spot the ideal career for you in a list, then great. But if you are uninspired by the choices, you can still feel rudderless and frustrated. As well as the practical and financial considerations, I think that one of the most important reflections you must consider is what kind of life do you want to lead. Family, health and wellbeing, time to think and create, opportunities for volunteering - and many others. In addition, what kinds of skills do you enjoy using. Not necessarily healthcare delivery, but perhaps people development or writing? What do you really get engrossed in and energised by? See the link below for the national conference in April on 'Alternative Career Paths for Doctors'.
Different Career Paths
Just because someone hasn't done it before, doesn't mean it is not possible. Everyone's medical career is different and comparing yourself to others can be very unhelpful. What is also frustrating is that it can appear unclear how people have developed their careers; its often invisible how people have created their working arrangements and interests. But medicine affords people the opportunity to be a part of a clear and defined role, but also the opportunity to specialise and diversify in many different directions. It can take time and exploration to work this out, so be patient. If there is one trait that I see most often with doctors, it is the desire to learn and keep developing so taking risks, keeping your options open and trying out new things is key to capitalising on opportunities.
Final thought..
The most important part of this process is to approach it from the right direction. That is,
don't consider stepping away from medicine, focus on what you want to step towards
, and perhaps medicine might play a role in that. As some educationalists are now approaching young people differently with '
don't ask a student what they want to be when they grow up - ask them what problem they want to solve',
then perhaps we should apply the same to ourselves.
Useful Links and resources
There are more, but here is a selection for you to access:
It is said that your life flashes before your eyes just before you die. That is true, it's called Life." Terry Pratchett.
If you would like to talk over your development call me on 0754 0593476 or email me at 
alexishutson@yahoo.com
Subscribe to these blogs..