Workshops and facilitation
I develop and deliver workshops and facilitate learning sessions for doctors and their teams. All workshops and facilitation are interactive and experiential. I endeavour to make the material engaging and fun in order to maximise learning. This can be achieved through face to face sessions or on a virtual platform, and can be designed for small groups or large audiences.
Workshops for Doctors
These sessions are subject-specific and can run as a two-hour virtual session, half a day and/or a full day workshop. Examples are:
Mentor/mentee training for mentoring schemes
Introduction/refresh and strengthen your mentoring skills
Managing conflict and change
Planning your first years after training
Introduction to MBTI and leadership potential
Planning your retirement
Teamwork and facilitation skills
Building resilience
The art of looking (using an art appreciation model to reflect on clinical and leadership performance).
Excellent, helped me work out what I'm going to do in a positive way, excellent, thought-provoking and therapeutic. Brilliant fun cover so much ground really well and safely.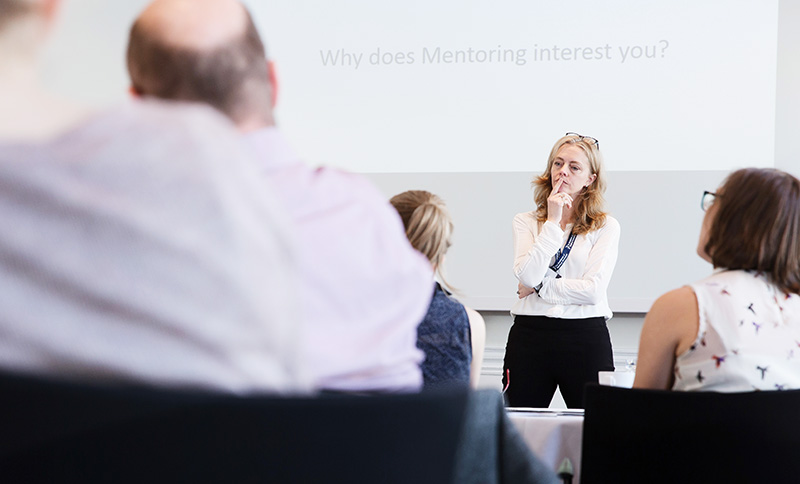 Facilitation
I am often asked to facilitate sessions for teams or groups for:
MBTI step I and II team development
FIRO Business for team development
Leadership Development Framework
Team development days
Strategic planning days
Presentations
What is coaching and mentoring
An introduction to coaching and mentoring
Using coaching and mentoring skills in your work
Workshops and Facilitation clients include:
Faculty of Medical Leadership and Management (FMLM)
Academy of Medical Sciences
University of Nottingham
University College London
The Crick
The Christie
Leeds Teaching Hospitals
Royal College of General Practitioners
The British Society for Immunology
Royal College of Radiologists
That was such a brilliant session. It met all of our needs. One of the many things I love about MBTI is it gives us, as a team, a common language to use to communicate things. You designed and facilitated this session so well for us. Thank you!
They'd had a team building event before that didn't go so well and so everyone was pleasantly surprised and staff talked to others that they had hardly spoken to before which was exactly what we wanted. – GP Practice Manager
I don't know what magic you just weaved, but that session was brilliant.
Alexis provided an excellent service, facilitating a very successful team development day with twelve very independent-minded doctors! Alexis quickly grasped the issues and objectives during the planning stage. The event was very positive, productive and good fun. The report produced by Alexis was comprehensive, clear and full of common sense. A 5-star service!
Alexis picked up a complex brief ahead of a large stakeholder event. Her understanding of the way that groups work towards decisions was essential to the success of the day. The complexity of the issues was still more challenging at a time when NHS organisations were going through maximum disruption ahead of new structures due shortly to come into operation. The way in which she drew out contributions from everybody, encouraging participation at every turn, was evidence of her wide experience deploying her skills with large and diverse professional groups.
Alexis provided a valuable insight into organisational development and staff engagement. Her work and ideas are always well researched, providing solid recommendations to take forward. Alexis is also an excellent facilitator who can read her audience well and adapt her approach as necessary.
We are at a critical stage in the development of our collaborative which is intending to impact on improving the wellbeing of the 1.5 million people who work in and for the NHS. Alexis followed the briefing she was given and is also very knowledgeable and concerned for the issues we stand for. She was punctual, precise and highly effective, as well as being personable and hard-working. I sincerely believe she enabled us to get the best out of the day and a very intensive session, throughout which she buoyed us up and also kept us focused and on task.