Learning in Action for Doctors
07 July 2017
As a coach I encourage those I work with to put their learning into action.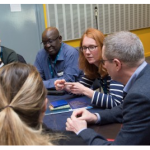 But I know this is not easy and requires ongoing support and input to encourage actively learning from experiences - through the day job. I also know that when I'm facilitating courses and programmes to groups, people really value and enjoy engaging with and learning from fellow clinicians.
Thats why I helped design and am looking forward to delivering Action Learning Sets (ALS) for Doctors organised by the FMLM*.
The idea
You benefit from a learning programme designed with
medical leadership development at its heart
, with the advantage of
professional facilitation by experienced coaches
and the value of
l

earning with a liked-minded group of doctors
who you can build a network with.
The programme
With the Action Learning Set programme, not only will you learn and develop those essential leadership and management skills as needed by today's clinicians but you will also develop an exciting new way of learning through Action Learning Set facilitation and learn just how you could use this approach on your own clinical and leadership journey.
The four sessions will cover:
Individual development and how to better understand yourself
Developing team working and managing change.
Organisational working, exploring you as an individual and as a team member in the overall context of the system.
Using the skills you have learnt from previous sets to self-facilitate and explore opportunities beyond the ALS programme.
The programme is for doctors who are either in or moving to a leadership and management role and will be delivered via four half-day sessions between September and December 2017, one set in London, one set in Birmingham.
Dates for the Birmingham set:
Wednesday 20 September, Wedensday 18 October, Wednesday 15 November and Wednesday 13 December.
This will be run by myself and colleague Liz McCaw.
Dates for the London set:
 Thursday 14 September, Thursday 12 October, Thursday 9 November and Thursday 7 December. 
This will be run by John Aspden and colleague Liz McCaw.
Cost:
£750 for the whole programme (thats £187.50 for each half day!) *Faculty of Medical Leadership & Management
Leadership is not a theoretical exercise, but a practical endeavour."
Click HERE to register with the Faculty of Medical Leadership and Management for a Action Learning Set.